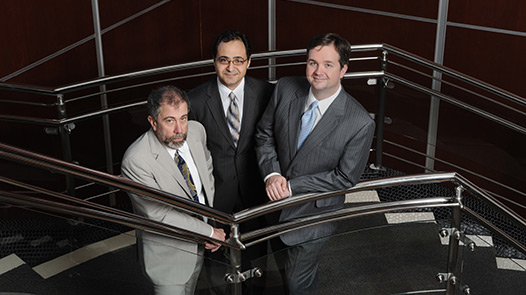 About Us
What sets us apart – vs. how we are different
Practice Overview
The Dallas, Brain, Spine and Skull Base neurological practice offers 20 years of experience providing innovative, state of the art and congenial collaborative team work philosophy in the care of patients from around the world with challenging neurological problems. Over the years, our practice has developed unique expertise and experience, becoming a referral destination for the treatment of patients with hard to reach, complex brain tumors. We also lead the DFW Metroplex in the development and innovation of minimally invasive neurosurgical concepts, including the most modern expanded trans-nasal endoscopic surgical technique and the focused extradural navigation and neurosurgical approaches. Both of these concepts are routinely used in our management of a variety of brain lesions.
In addition to its unique focus in brain tumor surgery, Dallas Brain, Spine and Skull Base Surgery has also used successful minimalistic, non-traumatic surgical concepts in the treatment of other neurosurgical problems including, but not limited to, cerebral aneurysms, trigeminal neuralgia and spinal tumors.
Dallas Brain, Spine and Skull Base Surgery is fully committed to provide comprehensive care for patients with spinal disorders. Our practice distinguishes itself from the majority of other spine surgery practices for its' singular preference and long time experience in the treatment of lumbar spine and cervical spine diseases without the use of spinal fusion or metal instrumentation whenever possible. This unique commitment avoids the potential, both short and long term, of the undesirable consequences of spinal fusion and metal instrumentation with screws and plates to a select group of our patients.
Dr. Coimbra, Dr. McGowan, and Dr. Beshay believe in customized patient care and team approach to medicine with attention to careful selection of the least invasive and most effective treatment for each patient. Our commitment to this philosophy has resulted in maximum perseveration of function, less discomfort, shorter hospital stays and durable favorable outcome for our patients.
Knowledge Library
Click to access frequently asked questions, links to patient resources and videos.