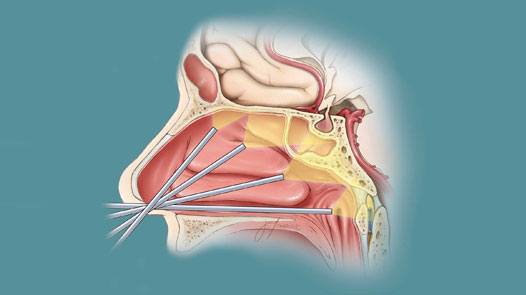 Procedure: Transnasal Endoscopic Approach
Illustration: Jared Travnicek, MA; and Aaron Cohen-Gadol, MD, FAANS
Our Vision
Focused Customized Care for Every Patient: Dallas Brain, Spine and Skull Base Surgery is committed to seeking the best outcome for each patient with maximal preservation of function and quality of life, while using the least invasive treatment possible. Treatment recommendations are made after careful analysis of radiological data, location and type of pathology, and evaluation of each patient's unique health profile. We then tailor therapy to meet each patient's needs and expectations.
Our Priorities
Cure of the disease
Preservation of function
Minimally invasive treatment
Innovation
Quality of life
Minimally Invasive Brain Surgery
Our commitment to minimally invasive surgery has allowed the creation of surgical techniques that have enhanced safety, post-operative comfort, and cure rates while reducing complications, length of hospital stay, and overall recovery time.
Surgical Approaches
Focused skull base and endoscopically assisted approaches allow access to complex regions of the brain. Frequently, intracranial disease is intimately related to delicate vascular structures and the brainstem. By using small incisions and small cranial openings, we are able to remove this pathology while limiting the amount of manipulation of normal brain structures. Additionally, these approaches allow direct navigation to deep lesions of the brain and skull base without having to expose the surface of the brain. The incorporation of these techniques into neurosurgery has enhanced safety, decreased post-operative discomfort and improved cosmetic and overall patient outcomes.
Transnasal Endoscopic Approach
Periorbital Approach
Frontal Sinus Approach
Periauricular Approach
Spine Surgery
Dallas Brain, Spine, and Skull Base Surgery is fully committed to providing comprehensive care for patients with spinal disorders. Our practice distinguishes itself from others for its singular commitment and long-time experience in the surgical management of spine disease without the use of spinal instrumentation/fusion. This unique commitment has avoided potential undesirable consequences of spinal instrumentation and fusion in a portion of our spine surgery patients.